As a registered dermatologist, we are proud to be able to offer the range of Obaji skincare.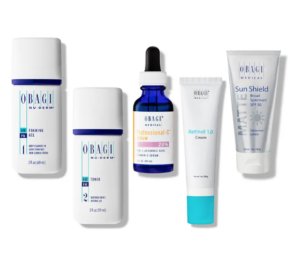 Below are some recommended skincare kits. This is based on an individual assessment of your skin:
Obagi Nu Derm system- 24 week programme
Helps get rid of pigmentation, melasma, lines, wrinkles & dullness.
The kit contains all the essentials that you would require for a full skin care regime.
Cleanser
Toner
Clear- Hydroquinone 4%
Exfoderm
Blender
Hydate
Obagi SPF50
Cost for 24-week programme is – £488.
Obagi CRx system
Combats hyperpigmentation, freckles and age spots, sun spots, uneven skin tone, fine lines & wrinkles.
The kit contains:
Cleanser
C-Clarifying serum
exfoliating day lotion
C-therapy night cream
Obagi SPF50
Cost for 24-week programme is – £371
Obagi 360 kit
Combats early signs of aging, dull uneven skin tone, minimal fine lines and wrinkles & occasional Breakouts
Cleanser
retinol
Hydrafactor SPF30
Cost for 24-week programme is – £154